Current Education News
Our Fall 2016 Semester class schedule is available here.
Convenient online registration available here.
We have moved!
The Electric Association and Education Foundation have moved to a convenient location in Oakbrook Terrace.
Our new address is: 17W733 Butterfield Road, Suite B, Oakbrook Terrace, IL 60181
EA and Others Offer Academic Scholarships
The Electric Association, Consulting Electrical Engineers (CEE) Division, and the Communication Technologies Forum (CTF) all offer annual academic scholarships. Find more information here by visiting our scholarship page.
Rent the Electric Association Education Foundation's L&R Anixter Computer Training Center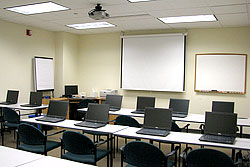 Newly renovated and completely updated, the twelve station computer facility is fully loaded with the latest office software. EA Members can take advantage of excellent rental rates and use the facility for customer or staff training.
Sustaining members at the Gold level or higher receive complimentary usage of this facility.
Please contact Carrie Spaeth at (630) 305-3050 for further details.
---
About the Chicagoland Electric Association Education Foundation
The Chicagoland Electric Association Education Foundation (CEAEF) is a non-profit charitable organization serving the educational needs of the electrical construction industry.
Our purpose:
To develop and implement educational courses and programs that will meet the needs and desires of the electrical industry,

To determine the needs and desires of the electrical construction industry with regards to professional education and development,

To develop and implement education & professional development programs,

To assist individuals in the acquisition of skills which lead to improved job performance,

To reward academic excellence & award academic scholarships to qualifying candidates towards the costs of tuition, books, required course materials, and lab fees. Qualifying candidates are Electric Association members, employees of an Electric Association member, and lineal descendants of Electric Association members.
The CEAEF hosts two formal continuing education semesters per year -- Fall and Spring.

Please check with us for our latest schedule of classes.
The CEAEF is affiliated with the Electric Association of Chicago.
* If you would like to make a donation to our important cause, please contact our office at: 630-305-3050. We appreciate your support!

---